Paying By Credit Card.

Gorjuss Art Ltd accepts payment by credit card without the need of a paypal account ( and it doesn't sign you up for an unwanted paypal account either!) .. your credit card payment will be handled on the paypal website, to ensure your payment is safe and secure!  We accept credit card payments on all our transactions, wether on gorjussart.com or gorjuss.etsy.com!  Please find a guide to paying by Credit Card (without a paypal account) below..
Firstly, shop as normal, and when you have your cart full and ready to checkout, fill in your details and you'll be taken to PayPal to make payment and complete the transaction: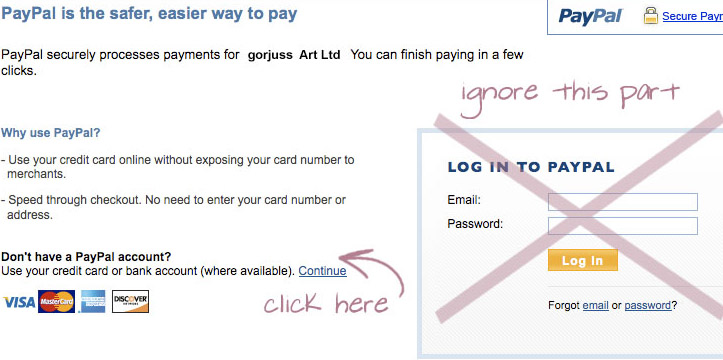 On the first page of the Paypal site, there is a laaaaarge log-in box, dont be put off by this, if you havn't got a paypal account ( and dont want to sign up for one!) … just click on the 'continue'  button on the left of the page (see picture above).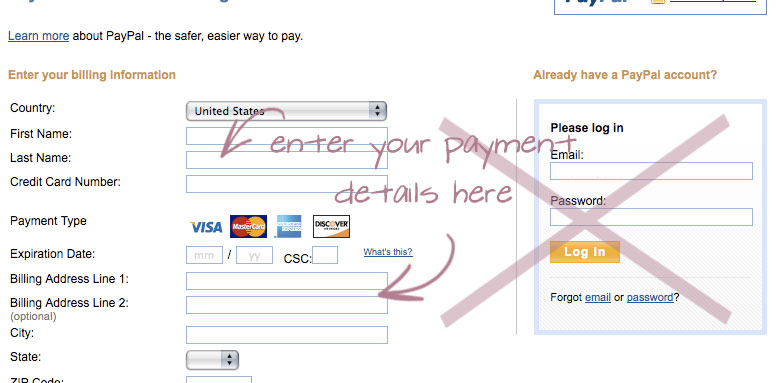 The left of the page will load securely with a payment form for you to fill out, as with any payment page – do check this page is secure before you enter any details into it !
Once the form is filled out, click continue and confirm the payment, payment will be taken immediatly from the card you used, and your order will be processed and shipped by us asap! *If you have ordered downloadable products (tube packs etc) then they will be available for you to download instantly in your gorjussArt account, just log in and download them!
If you have any further questions etc, please feel free to drop us an email and ask!