Pre Doctor Who Blog…
As Suzanne and I have a tea time appointment with the doctor ( Dr. Who of course! Click Here to familiarise yourself.), I thought i'd better get todays blog out earlier…. it also lets you guys have a good read before surrending to Saturday night Televisual evils… I call it Torture TV.
SCOTTISH WEATHER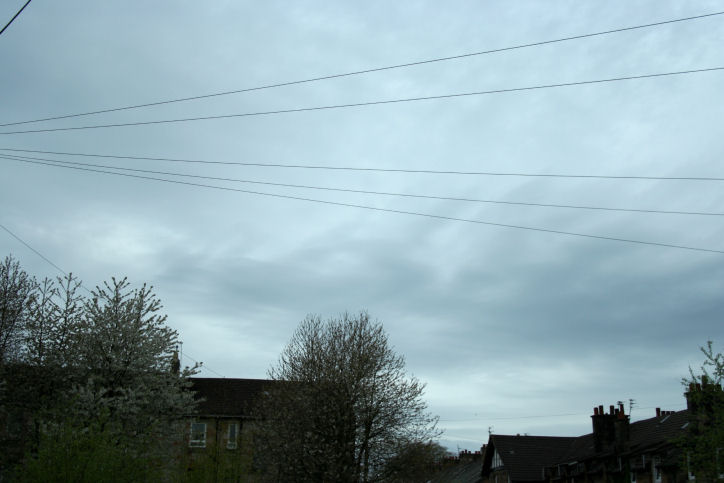 Scottish Weather is pretty much renowned world wide for being dull and pretty much rainy. Well its not true, today I captured a typical scottish sky….actually i'd suggest this is borderline a summers day…
Fortunatley for us, Suzanne doesnt tend to draw any inspiration from the weather…
OUCHIES update
Another good day for Suzanne, she has been given some stretch exercises to help aid the pain in her back. Im happy to report it is helping a great deal, though sitting for any period of time is still very much a painful experience for her. So more treatment required. Booked in for another Chiro session on Monday, Thursday and Friday next week.
 So a busy week ahead for us, with an extraordinary amount of orders for Monday…
PENDANTS part 2
  Suzanne and I are currently baking up a batch of our 2nd experimentation into Pendants, I will get pictures up as soon as the first batch is completed.. may be a little mini blog tonight… but probably i'll save it for tommorrows blog release. We are very excited about these…
ACEO update
The limited print run ACEO prints has had a slow start to sales, but we are down to our last 3 in some of the cards.. so If you were planning on getting some, dont wait till Monday… they may well be gone by then. If you want to take advantage of the 6 for the price of 5 offer, convo Suzanne at her ETSY shop.. HERE
CREATING A PRINT
Good evening and welcome to a lesson in creating a gorjuss print, please pay attention and if necessary take notes as there may well be questions later on. Anyone failing this pop quiz may be ridiculed and outcast…. or not.
Ok so we have seen sketches in the sketch book, that is pretty much STEP 1.
STEP 1: Sketch a picture in a sketch book.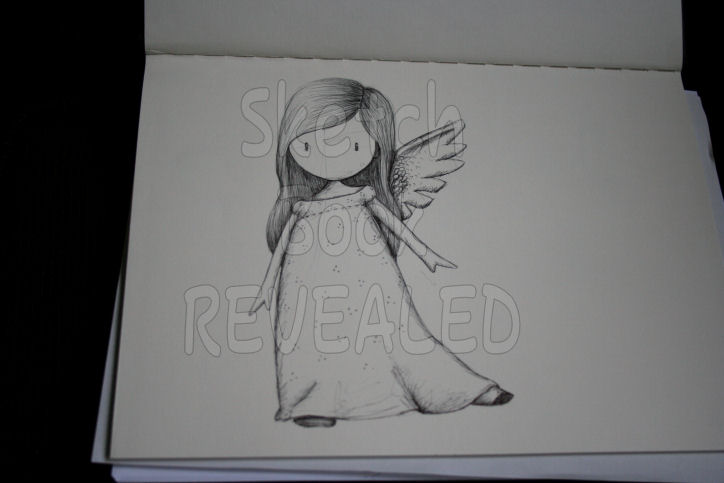 I have to say i think this is something Suzanne absolutley thrives doing. Even on an evening out at the pub, she'll be sitting sketching away catching the attentions of anyone nearby. It lead one day to a foreign exchange student swapping some beautiful hand crafted soap for the sketch Suzanne had just completed. It is something she always does sick or well, happy or sad… and it has to have a sound track. I wont give too much away as to what music she listens to when sketching… *points to the left of this blog* but the observant of you may have a good idea of her tastes..
Step 2: Scan to Mac, edit, fix, & colour…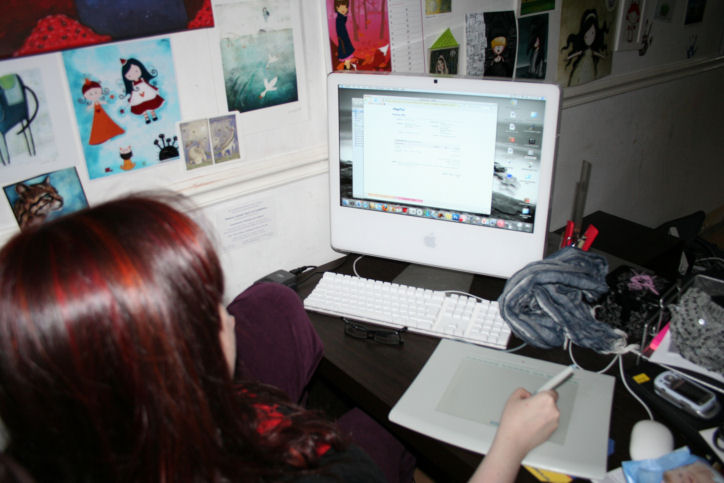 Pretty much self explanitary I think, she scans the sketches to the Mac as a guide for her digital painting, this step can take a few days to complete and many hours of music playing. At the end of this step, another entry for the next pack is ready.
Step 3: Printing.
This is pretty much where I come in, I take the digital file and make it up to size, for example 8×10, then i create a pile of prints to fufill the orders for that day, and sent it to…
Where it chugs and whirs and clunks for about 10 minutes… then we see….
At this point its nearly finnished.. I end up with a big sheet of Semi gloss paper covered in prints ready to go on to Step 4.
STEP4: TRIMMING.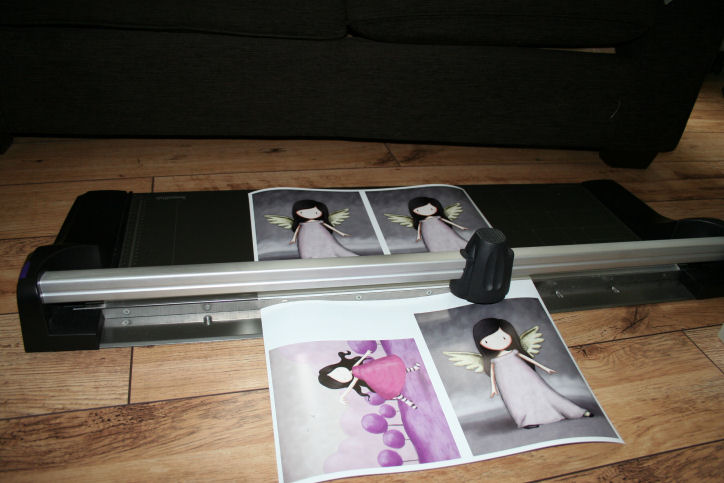 This is the point where many prints meet their doom, we are hyper critical and enforce high quality checks. Here i will check the print for any flakes or missprints or marks before cutting it into shape.
Its quite a fiddly stage to get a nice cut and to keep it straight…many prints fall foul of a slipping hand..
At the end of all this the final stage is…
STAGE 5: Sign and bag it.
Again quite straight forward here, Suzanne signs the back of the print and puts it into a cello bag to keep it scratch free and clean. We would then package it up in its envelope and get the stamps stuck on and then off to the post office for shipping.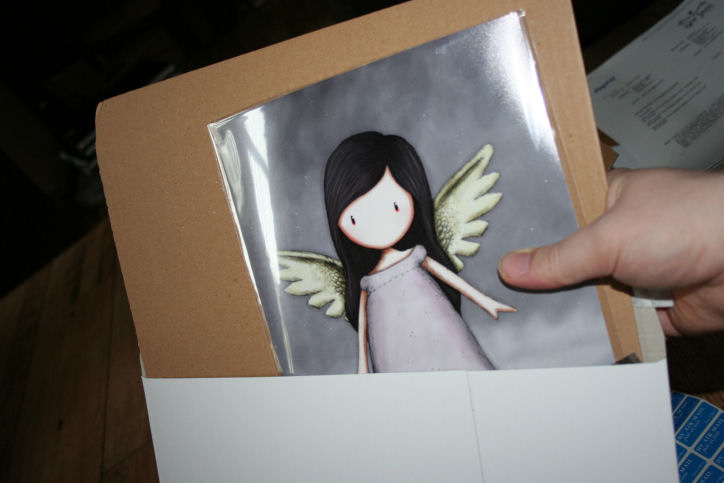 Then you receive it at your front door and hopefully gasp at its beauty… this does proove that all our prints are fresh.. we do not use frozen variety prints or cheap stock piles… we cut them fresh for you on the day of your order.. Saying that Im running a little low on ink……..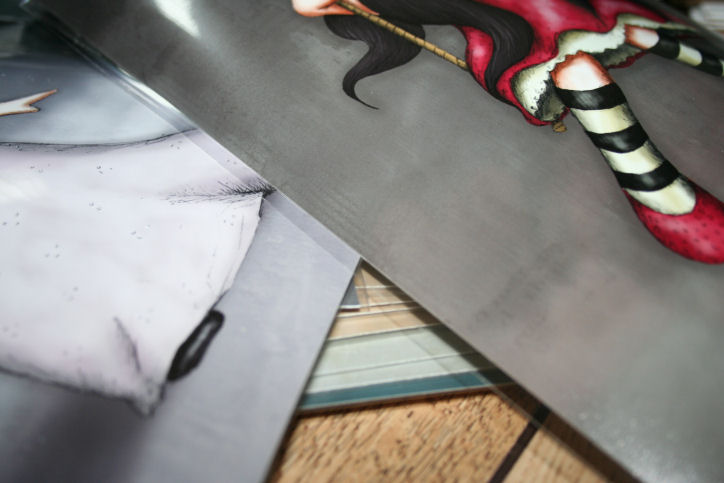 Well that rounds this post of nicely…. so its time to wish a good evening to you all, and I hope you all have a lovely weekend, and more to read tommorrow. I promise.