HERE THEY ARE! Gorjuss Originals For SALE!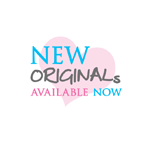 Hello everyone, we've been so happy to hear from you all, and your anticipation of the release of these, some of your MOST LOVED gorjuss girls !   YES   These are original ink drawings, we've shown them below next to their coloured versions, please note the coloured versions are not included ( these are available to buy seperately in our PRINT SECTION of the store! )  Please, if you see one you love, grab it quick, these wont hang around for long!   Thanks to everyone who looks, comments, buys & most of all supports us, we love you all ! – Suzanne & Grant x

KITSUNE
Kitsune, Original ink drawing, black ink on white, archival heavyweight paper, will not fade or yellow with age !!  She has so much lovely detail on her, including her thick wavy hair, tail and beautiful stars on her dress!!
//A4 paper 8 1/2″ x 11″ //Actual image is 24cm x 14cm//9 1/2″ x 5 1/2″// All measurements are approx.
:cookie: Find her IN THE SHOP HERE
FORGET ME NOT
Forget Me Not, ORIGINAL INK DRAWING !  Black ink on white, archival heavyweight paper, will not fade or yellow with age !!  She's a lovely size, with loads of detail, including a handwritten title just underneath her !  Signed by Suzanne, and packaged securely between heavy cardboard to keep her safe : )
//A4 paper 8 1/2″ x 11″ // Actual image 24cm x 14cm // 9 1/2″ x 5 1/2″ // All measurements are approx.
:mushroom:  Find her IN THE SHOP HERE
EUN SIDHE
Eun Sidhe, ORIGINAL INK DRAWING !  Black ink on white, archival heavyweight paper, will not fade or yellow with age !!  She's a lovely size, would suit a square or normal shaped Frame, with plenty of room around her for YOU to decide ! ( see image above for position representation!)  Signed by Suzanne, and packaged securely between heavy cardboard to keep her safe : )
//A4 paper approx 21cm x 30cm // 8.5″ x 11″ // Actual image 18cm x 17cm // 7″x 6 1/2″ // All measurements are approx.
Find her IN THE SHOP HERE
DEAR ALICE
Dear Alice, ORIGINAL INK DRAWING !  Black ink on white, archival heavyweight paper, will not fade or yellow with age !!  She's a lovely size, with so much detail, the red ink on the ground and the Bears tummy, were added digitally, not found on this version!  Signed by Suzanne, and packaged securely between heavy cardboard to keep her safe : )
//A4 paper 8.5″ x 11″ // Actual image 14cm x 20cm // 5 1/2″ x 8″ // All measurements are approx.
:apple: Find her IN THE SHOP HERE

BLUSHES
Blushes, ORIGINAL INK DRAWING !  Black ink on white, archival heavyweight paper, will not fade or yellow with age !! ZZZ   She's a lovely size, unlike the others offered at the same  time, she is on an bigger bit of paper, but same paper type!  She could easily be trimmed to fit a rectangle frame, or square !  Signed by Suzanne, and packaged securely between heavy cardboard to keep her safe : )
//21cm x 26.5cm //  8  1/2″ x 10 1/2″ // Actual image : 13cm x 18.5cm // 5″ x 7 1/2″// all measurements are approx.
:leaf: Find her IN THE SHOP HERE

THE PRETEND FRIEND
The Pretend Friend, ORIGINAL INK DRAWING !  Black ink on white, archival heavyweight paper, will not fade or yellow with age !! ZZZ   She's full of details, with her little toy fox, and  floating dandelion seads!  Signed by Suzanne, and packaged securely between heavy cardboard to keep her safe : )
//A4 paper approx 21cm x 30cm // 8.5″ x 11″ // Actual image :  15cm x 20cm // 6″ x 8″ // all measurements are approx.
:leaf: Find her IN THE SHOP HERE

THE EMBRACE
The Embrace, ORIGINAL INK DRAWING !  Black ink on white, archival heavyweight paper, you'll love this for sure! Great detail of girl, octopus legs and a tatto style banner ( banner is smpty!!!)  Signed by Suzanne, and packaged securely between heavy cardboard to keep her safe : )
//A4 paper approx 21cm x 30cm // 8.5″ x 11″ // Actual image :  18cm x  24cm // 7″ x 9 1/2″ // all measurements are approx.
:leaf: Find her IN THE SHOP HERE
THE SELKIE
The Selkie, ORIGINAL INK DRAWING !  Black ink on white, archival heavyweight paper, you'll love this for sure! Selkie's feature in many old Scottish folk tales !  Signed by Suzanne, and packaged securely between heavy cardboard to keep her safe : )
//A4 paper approx 21cm x 30cm // 8.5″ x 11″ // Actual image :  18cm x 24cm // 7″ x 9 1/2″ // all measurements are approx.
:pencil:  Find her IN THE SHOP HERE
Please …

share with your friends or just hit 'like'