New INTERVIEW With Suzanne In My DPI Magazine !
Hello everyone ! There is a new INTERVIEW With Suzanne in My DPI Magazine  (April 2011 – Vol (Issue) 144 .  Their cute tagline is "Every Designer has a PC or Mac & a copy of DPI "!  It's from Taiwan but don't panic, the interview is also in English!   It's a great Art magazine, featuring illustrators and artists from around the world, I was so excited when I was asked to be interviewed, I hope you grab this wonderful magazine if you can, it's packed full of wonderful illustrations !
You can find Suzanne's Interview in Issue 144 ( April 2011 )
.. Here is a peek at the Cover of the correct issue: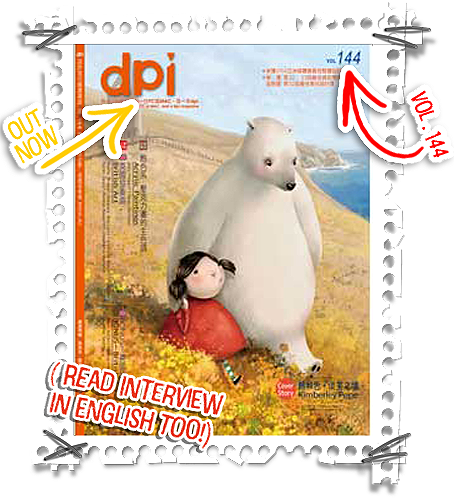 View their wonderful website HERE ( I've added google translate to this link !) They offer a International subscription too (all payments are fully secure !) .. it would be a great gift to give a friend, or just spoil yourself you will be delighted on the arrival of this fantastic Art publication !
You can also find them on Facebook here: 

Here's a sneak peek at Suzanne's 6 page Interview !
(Watermarks on the images are for the preview only – not on actual magazine pages!).  CLICK each image to VIEW BIGGER!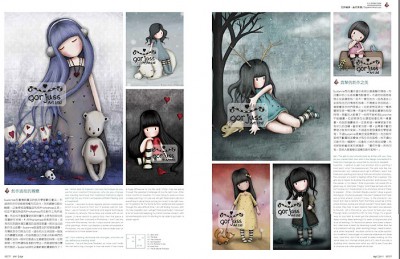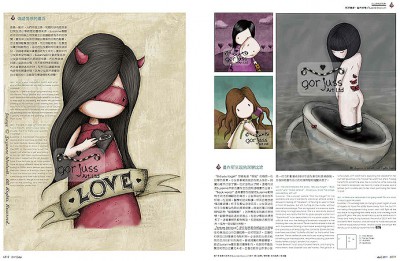 We hope you enjoy this sweet Interview WOW! , packed with new questions, we know you love new interviews and although you might need to search to find it of you are not in Taiwan, it is REALLY worth the search  YES

P.S We have sent some Originals from Suzannes Drawing Archive to her next Exhibition in L.A, this does not mean she is working again, but we do want to keep her work coming to you, she has approved the new releases and hopes very much you love them, she knows many of you are keen to grab original work and is sure you will love these !  We are so glad we found so many to fit the theme of 'The Skeleton Key' ( Keys always feature heavily in Suzannes work YAY! ) Find Out More:
The Skeleton Key – Opens May 20th – Suzanne has FOUR originals from her Archive available TO BUY !
To get updates & receive the PREVIEW for the event, contact Swoon Gallery:
inquiries: Phone: 310.704.1245   // Email: hello@swoongallery.com
.: The Skeleton Key :. //Friday, May 20 // Presented By SWOON GALLERY
Artists personal interpretation of what lies behind the locked door…

Featuring: Christopher Umana,  Cory Benhatzel,  Jessica Ward,  Rick Beaupre,  Suzanne Woolcott

Swoon Gallery brings together an array of talented artists from around the globe. Every artwork has a story behind it and reflects a special emotion, memorable dream or precious memory from within its creator. The mission of this gallery is to invite the viewer into the artists realm, and for the viewer to take with them, an experience that makes them swoon.




Thanks for reading, if it made you smile, please take a second to share this post with your friends and make them smile too ! YES  We've made it easy for you with the buttons below, just choose where you want to post it too and  "click"!  TADA!