New Gorjuss ORIGINALS – Here They Are !
Hello Gorjuss Fans,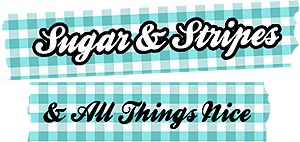 Thank you for your patience awaiting our next release of Original Gorjuss Artworks, Suzanne has helped me organise a wonderful collection, called "Sugar & Stripes & All Things Nice". It is a collection of framed pieces, in varied sizes ( & prices) featuring a black & red theme, all works are in black ink (Suzanne doesn't draw in pencil – she draws these straight onto the paper!) .. with sweet accents of pink cheeks ( & some knees & elbows too) .. with subtle red touches making the works really come to life. The paper is archival meaning it won't fade or yellow with age, ( care should be taken not to hang them in direct sunlight! ) Of course Stripes & beautifully detailed dresses feature heavily too, everything about this collection is gorjuss !
TO BUY:

Please visit GORJUSSART.COM
(& click on Original Art to find them)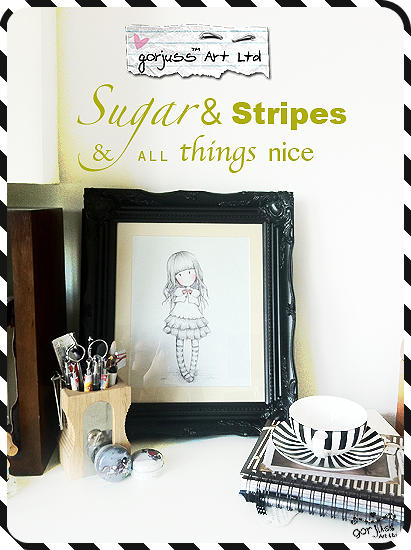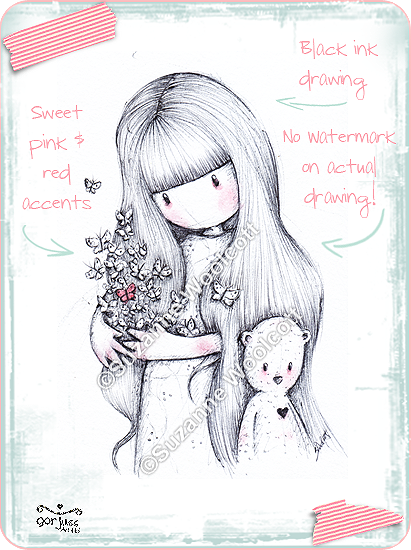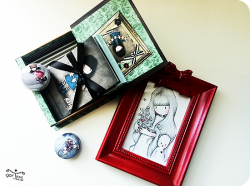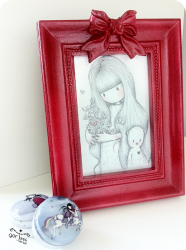 (You Gave Me) Butterflies In My Stomach


16cm x 21cm (Approx  6 1/4″ x 8 1/4″ )
Framed
£250 GBP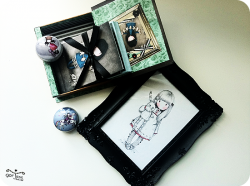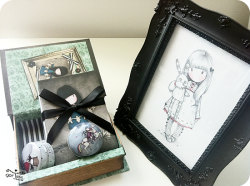 Hush, Little Bunny
18.5 cm x 23 cm (Approx 7 1/4″ x 9″ )
Framed
£300 GBP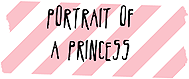 Portrait Of A Princess
6cm x 24cm (Approx  6 1/4″ x 9 1/2″ )
Framed
£200 GBP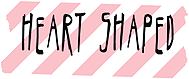 Heart Shaped
19cm  x 23cm (Approx 7 1/2″ x  9″ )
Framed
£200 GBP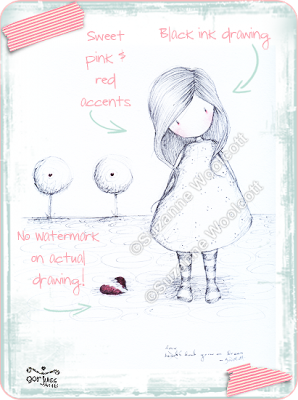 Hearts Love Doesn't Grow On Trees
34cm x 39 cm  (Approx 13 1/2″ x 15 1/2″ )
Framed
£400 GBP SOLD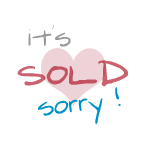 My Little Vampire
34cm x 39 cm (Approx 13 1/2″ x 15 1/2″ )
Framed
£400 GBP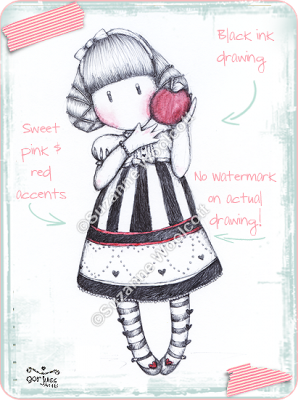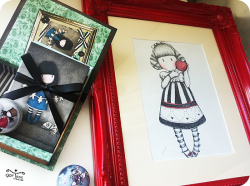 Snow White
37cm x 44.5cm (Approx 14 1/2″ x 17 1/2 " )
Framed
£500 GBP
All pieces will be courier shipped, this costs between £20 – £40 worldwide, please let us know where you are when you contact us for an exact amount! ( Courier shipping takes 3-5 days worldwide for delivery!).  All Images are © Suzanne Woolcott. All Rights Reserved.   Please do not post these preview images without prior consent, they are for your viewing purposes only.
If you have any questions, please feel free to ask,
thanks again for your interest, we hope you see a gorjuss Original you fall in love with, please keep an eye on the blog for more gorjuss news & updates !
Suzanne & Mr G x
Portfolio:  http://www.gorjussart.co.uk
Blog:  http://www.suzannewoolcott.co.uk
Store:  http://www.gorjussart.com