Suzanne Woolcott – Once Upon A Time UK SOLO #EXHIBITION 26th Jun – 21st Jul 2012 #Art #wisbech #fenland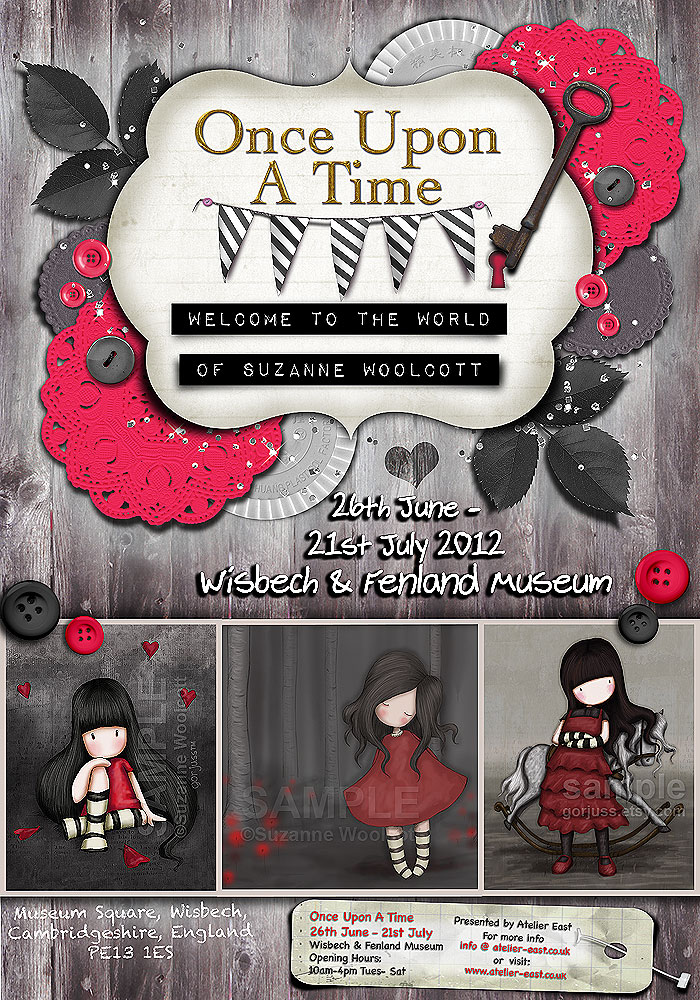 ONCE UPON A TIME
26th June – 21st July 2012
Wisbech & Fenland Museum
Opening Hours Tues -Sat  10am – 4pmEntry is free. 
Presented by Atelier East
 For more information please email:
info@atelier-east.co.uk
or visit www.atelier-east.co.uk

Hello Gorjuss fans!
Here's a little update on my latest Exhibition *drum rolls please!*  It's rare to find one of my Exhibitions in the UK these days, but those of you that have been gorjuss fans for a looooong time might just remember the name "Atelier East ", here is what they have to say about our first beginnings together..
" Back in 2007 Atelier East's Director, Karen Harvey, was curating an exhibition to raise money for Papworth Hospital and came across Glasgow based Suzanne's work…  After being invited to take part in the charity exhibition, we encouraged Suzanne to have her first ever solo exhibition, and curated it for her at the Angles Theatre in Wisbech. Entitled 'Red Apples' it was an exciting mix of digital and traditional painting, and it went down a storm! … (read more) " – Atelier East



It was so wonderful to work with them, I have many fond memories that I jumped at the chance to exhibit with them again!
The beautiful gallery  space will be filled with large canvas artworks, in all sizes ( 8″ x 10″, 16″ x 20″ and the very special, exclusive size of  20″ x 25″ ), Unfortunately I can't be there in person, to meet you all, and answer your questions and comments, so please feel free to leave a message here & i'll respond to ALL !  WOW!
" We are really lucky to be able to share Suzanne's work through this exhibition. It's going to be a wonderful chance for people to learn about her work and the challenges she has met. Suzanne is an absolute inspiration and we are really proud to be working with such a strong willed and talented artist.  … (read more) " – Atelier East

Useful Links:
:mushroom: Atelier Easts Facebook
:apple: Atelier East Blog
Hope you love this update,
please comment & share via FB, Twitter
& more by clicking the images below..