Merry Xmas Gorjuss Friends X // HUGE SALE Now On!
Hello everyone, well I can hardly believe it's December again, what a year it has been!  There has been so many new friends & fans that have found my artworks this year, as well as the continued support from loyal fans & I appreciate all the support shown for another year!  I am truly humbled by your notes & comments, it means so much!!
There has also been soooo many new products releases from Santoro, who also wish you all a very merry christmas!  The products have been widely enthused about by you, our loyal fans, it tickles me pink to hear your feedback on here on the blog or with our Twitter & Facebook 🙂  
Did you get something Gorjuss for Xmas?  Share with us!  If not, check out our SALE with a massive 33% discount on ALL our prints, in ALL our sizes!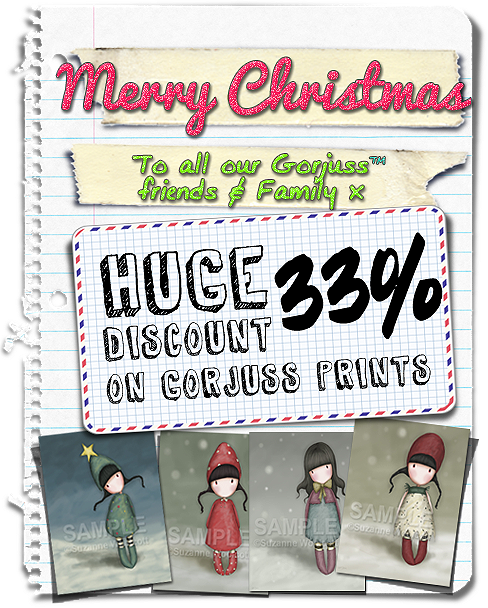 :leaf: Prices have already been changed to reflect the discount, and it's a GREAT way to get what you want for sure (no dropping hints for a few months!)  BUT this sale does NOT apply to Santoro's shop or products, only the Prints in my own shop here: http://www.gorjussart.com (but not Etsy at this time) YES
I'll be back before New Year to share our lookback of the year with you,
Merry Christmas Everyone!  
– Suzanne x