NEW Gorjuss Trinket Box Available & Guest Giveaway: theRainbowRoom
Hello everyone, it's FRIIIIIIIIIIIIIIIIIIIIIIIIIIIIIIIIIIIIIDDDDDDDDDDDDDDDDDDAAAAAAAAAAAAY,
Please do take the time to enter our Cullen Craft sponsored competition from yesterday, it runs till Thursday and we will promote it strongly from Monday onwards!
We have something NEWLY released  for you today !! She's called 'After The Circus' and she's looking for a new home  !!
She's WOODEN (not Papier Mache!) but she's a nice thick wooden box, with plenty of space inside to hold bangles or watches, or necklaces and earrings, or embroidery threads ( as shown, embroidery thread not incuded!)!  Whatever you need to store, you'll find this will house it perfectly!  She measures  in 4″ (9cm)  in diameter!
Check out the gorjussArt shop to find her!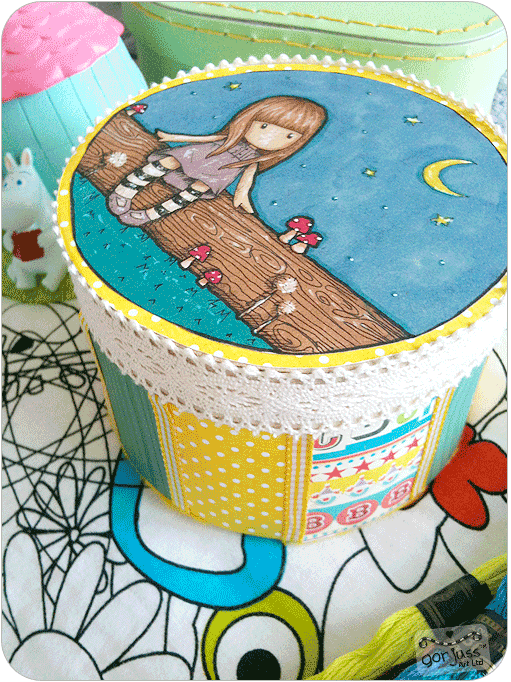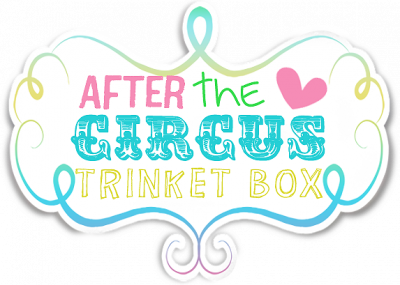 Isnt she lovely? She made up of High Quality Scrapbooking papers (mostly Sassafras) and Ribbons, it has a thick Lace Ribbon around the top too, the bottom has a yellow felt base, to protect the surfaces you place it on, and it has a nice green felt base inside too, to keep the goodies you place inside in tip top condition!


Clara Luna "Therainbowroom" is an artist/designer/craftsperson who loves colour and especially rainbows. She lives in Mid-Wales & the internet plays a large part in her life, especially for her work and in keeping up to date with the real world!! She has started to share alot of photos and details about her work in her blog & on Flickr. Clara has spent many years developing her art & designs and hopes to inspire.   Clara Luna has a BA (hons) in Fashion & Textile Design. She enjoys working & experimenting in many different mediums including felt, feltmaking, mosaic, polymer clay and anything she can use to express her love of vibrant colour and pattern. Let's find out more:
Shop address: www.therainbowroom.etsy.com



Hello Guest Giveaway lovely! Please tell us a little bit about you , who are you, where you're from!??


Hello Gorjuss, thanks for having me here, come take a sneeky peek into my colourful world of creativity and artistic adventures. I am an artist & mother who lives in rural Mid-Wales in the UK. I am currrently home educating my daughter and when she lets me…… I become Clara Luna and I save the world in my own special way by filling it with colour & rainbows!!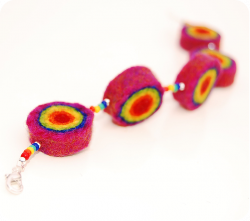 Tell us about what you make & your inspiration?


My aim is to brighten up the world with rainbows and colourful creations.
I believe rainbows can make a real difference and a kaleidoscope of colours will keep you on top of the world. I am happy to say "I make Rainbows" lots of cute and funky felt rainbows in different shapes and sizes, a variety of felted jewellery, lots of lovely felted soaps, colourful felting supplies to inspire your creativity and a whole lot more too!

What is your favourite item to make/sell ?


I love making everything, custom requests are lots of fun and felting beads for my jewellery is very theaputic.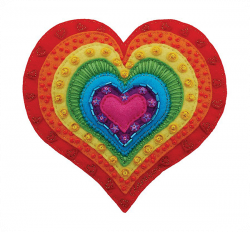 Do you have any favourite Etsy items you've bought?

I really love your work Gorjuss, especially your 'Sometimes Rainbows Fade'. I have a few fab trees from hitree, love summersville and her beautiful printed fabrics, unique cards from storeyshop, oh there are so many!!!….Etsy is great !

Do you have any other websites people can find you?

I have shops on Etsy, Folksy and Dawanda
www.therainbowroom.etsy.com
http://www.folksy.com/shops/therainbowroom
http://en.dawanda.com/shop/therainbowroom
If you want to know a little bit more about me and my Rainbow Room, you can find my blog at http://therainbowroombyclaraluna.blogspot.com/ my photos at http://www.flickr.com/photos/therainbowroom/ come follow me on Twitter http://twitter.com/therainbowroom join my Facebook Page http://www.facebook.com/home.php#/pages/TheRainbowRoom/

Whats the best advice you've ever been given?

eerrr….still waiting for that I think ; )

Anything else you'd like to say?

One life , Live it!
——————————–
Great Interview Rainbowroom, thanks for letting us find out a little bit more about you and your creations ! Now, lets see what you gave the lovely gorjuss Readers a chance to win this weekend..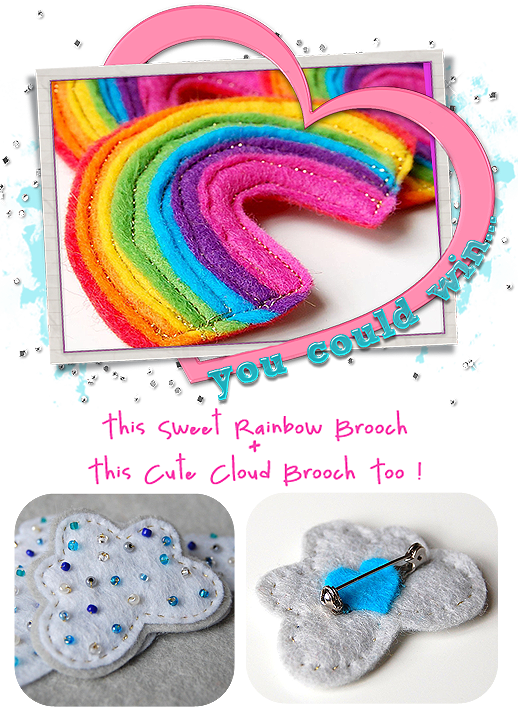 YOU COULD WIN: Rainbow Brooch & Claraluna Cloud Brooch!
To Enter On Blog: This seller is clearly colour passionate, so lets delve into our deep psyche's and examine what colour of the rainbow's we are. So tell us what colour of the rainbow you would be and why?!!! Whatever it is, tell us !
For an EXTRA entry, we will accept you to VISIT therainbowroom, find your favourite thing there ( warning: It may take a while, you'll love it all!!) and copy the URL ( the www.sitename/faveitem.php bit!) and paste it into your comment here! Clara would love to hear your fave items & it will DOUBLE your chances of winning to do both !! ( I'm sure she'll read your comments too, so please let her know what you think of her lovely Creations and wonderful interview she did for you all !)
…. Good Luck and have fun, Remember if you are new to the blog, it can take upto 12 hours for your post to be checked an authorised… once its given the ok all further posts should appear instantly. So don't panic…

To Enter on Twitter: We have a $7 GorjussArt Gift Certificate prize available for a twitterer winnerer too ! Just hit the RETWEET button at the top of this blog and your RT will be entered into a draw too ( the winning tweet will be chosen by random.org too!)
Closes: Sunday Night at around 10pm GMT ( gorjuss time is shown on the blog clock!) Winner decided by Random.org. For Facebook readers, comments must be submitted on the actual blog www.gorjussart.co.uk/blog). You can enter as many times as you want on the blog ( but only one entry on twitter) just no back to back posting ( i.e someone should post between your posts!)
Good luck everyone, and a big thank you to Clara Luna "therainbowroom" for joining us this weekend and of course her generosity with the prize!